X Factor's Aiden Grimshaw 'finds his feet' with single
Not much has been heard from Aiden Grimshaw since he sang Mad World as a finalist on The X Factor in 2010.
The 20-year-old from Blackpool spent the next 18 months getting used to life in London, partying and working with producers.
But he says he's now "found his feet" and will be releasing his debut single in June.
"I think it's going to be different to what people expect from Aiden Grimshaw from The X Factor," he said.
'Compromise'
The singer has mixed feelings when looking back at his time on the ITV talent show.
"It's just weird isn't it," he said. "It's such a long time since I was on the programme. It feels like another world to me."
"Most of it was compromise. I wanted to be singing mental songs on a Saturday night at half seven which just weren't appropriate. But I was always happy with the songs I was given.
"It's an amazing experience."
Aiden went from serving pizza to being signed to a record label straight after the show. The next step was coming up with new songs.
"I wrote some proper terrible stuff," he said.
"It was more about me finding my feet and finding my own sound."
But he's now happy with his album. Influences include the likes of Moby and Massive Attack.
'Honest'
As well as testing tracks on his mates, Aiden even asked his grandma for feedback.
"It was my grandma's birthday and I went around and we'd just had the album mastered," he said.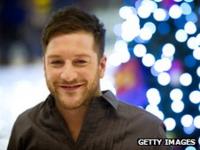 "I hadn't had time to get an actual present so I was like, 'Here we go.'"
"She was bopping out these moves all over the show. She loved it."
He says he thinks music should be "honest" and his new single Is This Love, which comes out on 3 June, draws on his experiences over the past 18 months.
The video includes themes like drinking, drug taking and sex.
"It is something that I've been through but it's such a general situation it applies to everyone," he said.
"I think generally it's just a feel-good album. There's loads of aggressive bits, there's loads of happy bits and needy bits and questioning bits.
"But at the end it sums up that you need a bit of love."
So has he settled on a direction now?
"I think we've got a good idea but I don't think it's nailed down just yet. I think there's more time to grow and learn.
"You take every day as it comes. As quickly as you can be hyped up and rise you can be forgotten the next day. I'm enjoying it at the moment."