Jessie J hits back at claims she insulted The Voice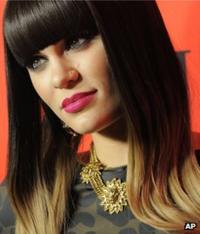 Jessie J has hit back at reports that claimed she called The Voice "lame".
The singer took to Twitter after papers said she had insulted her fellow coaches on the BBC One talent show.
She allegedly angered programme bosses by making negative comments about The Voice during filming of The Graham Norton Show.
But she posted online: "I don't know what shocks me more that the papers get away with the lies they print or how many people believe it."
The newspaper reports referred to an interview with Company magazine where she insisted she would not audition for the programme, which has been locked in a ratings battle with Britain's Got Talent.
Jessie, 24, said: "I wouldn't enter myself in 20 years time.
"I feel like I've worked hard enough to stay here, even if I end up behind closed doors doing make-up. I'll always be around."
The Laserlight star was also quoted saying she wished she had known who the other judges were before signing up alongside Sir Tom Jones, Danny O'Donoghue and will.i.am.
"I was first to sign up (as a judge) because I was totally up for it," she said. "But when Tom Jones said he waited until he knew the line-up, I thought I should have, too."