Ricky Gervais's Derek to become series on Channel 4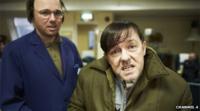 Ricky Gervais's one-off comedy-drama Derek has been commissioned for a full series by Channel 4.
Gervais plays Derek, a care home worker who enjoys autograph hunting, while Karl Pilkington also appears.
When it aired in April some people criticised the show and claimed it poked fun at people with learning disabilities.
Gervais has defended his character, saying: "He's different. But then so are a lot of people."
"He's not the smartest tool in the box but he's cleverer than Father Dougal, and not as different as Mr Bean," said the 50-year-old.
Comedian Stewart Lee previously suggested the character made light of the "mentally handicapped".
In October 2011 Gervais was also criticised for using the word "mong" on his Twitter feed.
Announcing the new series, Channel 4's head of comedy, Shane Allen, called Derek a "kind-hearted character in a world which TV normally shies away from.
"It feels like a perfect new direction for Ricky," said the TV boss.
The original episode pulled in a total of 3.2m viewers, according to Channel 4, and the series is set for broadcast in early 2013.