Russell Brand confronts heckler at comedy show in US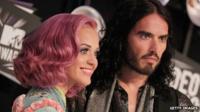 Russell Brand has confronted a member of the audience at one of his gigs in America after he was repeatedly heckled about ex-wife Katy Perry.
The comedian jumped into the crowd after being interrupted while on stage in Atlantic City on Saturday (5 May).
"I want to see what this person looks like," he told the crowd. "Turn the lights on for me because I want to achieve some sort of confirmation."
Russell Brand announced he and Katy Perry were splitting up over Christmas.
A judge granted them a divorce in February, although the marriage won't be officially finalised until July.
They met in 2008 and married in 2010 in India.
'Idiocy'
The person heckling Brand was then pointed out by various members of the audience at the Borgata Casino after organisers turned the lights back on.
In a video posted online, a man can also be heard shouting "God save the Queen".
The 36-year-old British star is seen yelling at the heckler, who later says he's a 22-year-old called Kyle.
"I was hoping that your personality was as a result of physical beauty, then I saw you," said Brand.
"I thought this guy's confident probably because he's incredibly handsome, but look at you.
"You look like someone that's fallen off the outside of a church.
"And what is it that you have rattling inside of your mind? Some bizarre combination of alcohol and idiocy... and yet the confidence to continue shouting."
The clash ended more amicably however with Brand calling his rant a "poem for the stupid" and inviting the audience member on stage for a hug.