Tom Gabel of Against Me! comes out as transgender
9 May 2012

From the section

Music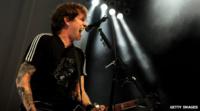 The lead singer of American punk rock band Against Me! has revealed plans to start living as a woman.
Tom Gabel is now referred to as a she after coming out as transgender and will take the name Laura Jane Grace.
She spoke to Rolling Stone magazine about dealing privately for years with gender dysphoria.
It's a condition where a person feels they're trapped inside a body of the wrong sex.
She said she would start the physical transition process soon by taking hormones and undergoing electrolysis.
The 31-year-old singer also revealed plans to remain married to artist wife Heather.
'Beautiful'
On the track Ocean, released on the Against Me! album New Wave in 2007, Gabel sings: "And if I could have chosen, I would have been born a woman.
"My mother once told me she would have named me Laura, I'd grow up to be strong and beautiful like her."
Gabel told Rolling Stone magazine: "I'm going to have embarrassing moments and that won't be fun."
But she added that she was "hoping people will understand, and hoping they'll be fairly kind".