Avengers sequel 'in development' says Disney's Bob Iger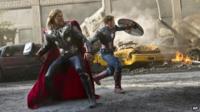 A sequel to the Avengers film "is in development" according to the Chief Executive Officer (CEO) of Disney.
Bob Iger made the announcement to analysts during a conference call.
He also confirmed a third film in the Iron Man franchise as well as sequels to Thor in 2013 and Captain America the following year.
The Avengers film broke box office records in America for the biggest opening weekend, taking an estimated $200m (£123m).
The movie, directed by Joss Whedon, has so far taken more than $700m (£433m) worldwide.
It brings together superheros from Iron Man, Captain America and Hulk who band together to fight Loki, a character from Thor.
Disney says it has also been working for a year to develop Avengers attractions at theme parks.
"We fully intend to continue to fuel the marketplace with Marvel's Avengers-related stories and characters so that the momentum continues," Bob Iger said.
He revealed that Disney's net income in the first three months of the year grew 21% despite making a $200 million (£123m) loss on film flop John Carter.