Streaming chart based on sites like Spotify to launch
10 May 2012

From the section

Music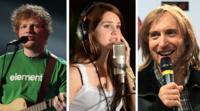 The Official Charts have launched the UK's first Official Streaming Chart, saying it's to reflect the changing listening habits of music fans.
A weekly top 100 will be calculated on the number of streams or plays a track receives on music services such as Spotify, Napster and Deezer.
An estimated 2.6 billion tracks were streamed in 2011.
They say they have "no immediate" plans to incorporate streams into the Singles Chart, but would not rule it out.
Future charts
Martin Talbot, managing director of the Official Charts Company, called the launch of the new chart "a true coming-of-age moment for music streaming in the UK".
The chart will begin by collecting data from six services - Spotify, We7, Napster, Deezer, Zune and ChartsNow but could expand to include other services at a later date.
The Streaming Chart will stand alone from the UK's Official Singles Chart and Albums Chart, but the Official Charts Company is keeping an open mind about bringing them together in the future.
"We'll keep a watching brief on it and adjust our plans accordingly depending on how the market changes," said Talbot.
"As far as the Singles Chart is concerned it doesn't make sense to include the streams [at the moment] because the Singles Chart is so strong.
"Never say never. I wouldn't say that it's unlikely that we would ever merge the two. I think it would just be something that we're looking at.
"Whether that happens in four years, five years, 10 years, 20 years, depends on how the market evolves."
In the US, the Billboard Top 100 is already compiled using streaming data. It also incorporates radio airplay along with physical sales and downloads.
The new chart will count streams of tracks on both advertising funded [free] and subscription-based services. Sites such as Spotify offer users both options.
Steve Savoca, head of content at Spotify, said: "This is a defining moment in the evolution of digital music."
It is confirmed that the new Streaming Chart will not include streams of music videos online through sites such as Vevo and YouTube.
"The reason for that is that we feel, and the industry feels, there's a very different type of consumption which goes on when you're streaming an individual track or an individual video," explained Talbot.
Artists' views
Ed Sheeran, the most streamed artist of 2012 so far according to the Official Charts Company, welcomed the launch. He said the new chart "can only be a good thing".
Bajan pop band Cover Drive are in the UK's top five with their track Sparkle, their bassist Jamar Harding described the launch of an Official Streaming Chart as a "brilliant", adding "times are changing".
Ben Lovett from Mumford & Sons told Newsbeat: "People are adapting. I do occasionally listen to the chart show and enjoy the excitement of the countdown.
"But for Mumford & Sons it's not been a focal point of what drives us - it's been all about the shows. A sold-out show will always beat a number one for us."
According to the Official Charts Company the most streamed artist of 2012 so far has been Ed Sheeran, followed by Lana Del Rey and David Guetta.
The first Official Streaming Chart will be published at 1pm on Monday 14 May.