'Cyberbullying on social media forced me out of teaching'
8 May 2012

From the section

Health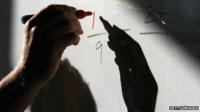 A young teacher says abuse on Twitter and Facebook by her students left her physically ill and on medication.
It follows a report by a teachers' union which found social media is increasingly being used to attack teachers.
Twenty-eight-year-old Rebecca left her first teaching job after being abused online
"I felt physically sick and couldn't stop crying throughout it all," she said.
"I was never sure why I was targeted, but something tells me that it was partly because of the way I had been undermined by other teachers.
"The students would see it happening and I think that just made me fair game."
The NASUWT says one in four teachers it spoke to had experienced bullying on Twitter and Facebook.
It says the comments were usually attacking a teacher's ability, but in most cases it went beyond that.
"I had once talked about how I wanted to be a vet and soon rumours were spreading that I was having sex with animals," said Rebecca.
"Twitter and Facebook meant these things just spread like wildfire.
"I was suddenly getting students I didn't know putting messages on a Facebook page about me.
"They would follow me on Twitter and tweet sexual abuse."
'Toughen up'
Rebecca spoke to staff but was surprised at their advice.
"Basically they said I needed to develop a thick skin and that soon enough the kids would move onto something new," she said.
The NASUWT says nearly half of teachers it spoke to received little or no support.
"It just seemed no-one wanted to take it seriously," she revealed. "I was made to feel like it was my fault."
Things got worse for Rebecca after a few months.
"Some students started editing tweets I'd written a long time before I joined the school and twisting words, claiming I hated them and hated the school."
She eventually told a senior member of staff that she'd been diagnosed with clinical depression.
However, the next day, the head teacher told her she would face an investigation into her conduct and disciplinary procedures, so Rebecca left the school.
'Employers failing'
She wants to return to teaching but admits she's terrified.
"The problem with Twitter and Facebook is that the data is stored permanently online, even if your online account is deleted," she said.
"I'm scared it could all come back to haunt me."
NASUWT general secretary Chris Keates wants the government to tackle the problem.
"There are no adequate procedures in place locally or nationally to protect teachers," she claimed.
"It is clear that some employers are seriously failing in their duty of care by neither having appropriate policies in place nor taking incidents seriously when reported."
A Facebook spokesman said: "When conversation crosses a line and turns into harassment, teachers have access to reporting tools on almost every page of the site, unlike much of the wider web."
Rebecca's name was changed to protect her identity.