Wanted track to feature in Ice Age 4: Continental Drift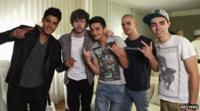 The Wanted's latest single has been selected as one of the lead tracks for Ice Age 4: Continental Drift.
The boy band, recently back in the UK after a tour of America, will see Chasing The Sun featured in the animated movie.
The Wanted first appeared on the pop scene just over two years ago but have already sold more than four million singles and one million albums.
They are due to perform at festivals including T in the Park this summer.
Ice Age characters include Scrat the squirrel, Manny the mammoth, Diego the sabre-toothed tiger and lead Sid the sloth.
Ice Age 4: Continental Drift is released on 13 July.