Foo Fighters' Dave Grohl turns documentary film maker
3 May 2012

From the section

Music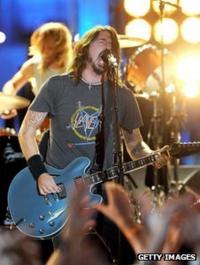 Foo Fighters' Dave Grohl is to direct a documentary film about legendary recording studio Sound City.
The singer and guitarist has a long history with the Californian building as it's where his first band Nirvana recorded their album Nevermind.
Arctic Monkeys, Metallica, Elton John, Neil Young and Guns N' Roses recorded at the studio which closed in May 2011.
Grohl described it as "America's greatest unsung recording studio" and the "birthplace of history".
A statement from the rocker added: "It was a witness to history. It was home to a special few, intent on preserving an ideal. An analogue church. A time capsule. The last bastion of a craft defied by technology.
"It was rock 'n' roll hallowed ground. And it was our best-kept secret. Now I want to tell its story," he said.
Album's recorded at the studio include Rage Against The Machine's debut, Fleetwood Mac's Rumours and Johnny Cash's Unchained.
Roswell films, part of Foo Fighters own Roswell records, will distribute the documentary.
A release date has yet to be confirmed.