Mumford & Sons: No new 'tricks' for second album
2 May 2012

From the section

Music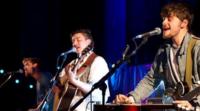 Mumford & Sons have said they're currently putting the finishing touches to their second album, the follow-up to their 2009 debut Sigh No More.
The band's keyboardist Ben Lovett explained that it won't see the group take on a radical new direction.
He said: "We can't really come out with any tricks or new sounds because we have the instruments we play and we sing songs."
The album is scheduled for release later this year.
Touring tiredness
It was part-recorded in Lovett's home.
Speaking to BBC Radio 1's Zane Lowe, Lovett said: "We've just made another record that we felt best represented where we got to."
The band recently announced details of two special summer shows.
The foursome have organised two festivals as part of their summer Gentlemen Of The Road tour in Huddersfield (2 June) and Galway (9 June).
The performances will see Mumford & Sons play with a bill of bands chosen by them and they'll also "take-over" bars and venues in host cities.
The idea was inspired by festivals such as Colorado's Telluride Bluegrass and Scotland's Loopallu Festivals.
"We've played so many festivals across the world - there are some which we love and that we really want to go back to and there are some we don't want to go back to," said banjo player Winston Marshall.
"It's an idea that's come out of all of our favourite festivals."
They confirmed they'll tour the UK again this autumn, once the new is released.
"I think we're feeling pretty refreshed," explained Lovett.
"It got to a point with the touring, that as much as we were enjoying it, we were also running ourselves into the ground a bit.
"I'm dying to get out on the road and be the band we were in the first place. We formed to tour, we can go back to our comfort zone and play some gigs."
In the past three years the band have been nominated for numerous awards including Brits, Grammys and Q Awards.