Tulisa Contostavlos voted FHM Magazine's sexiest female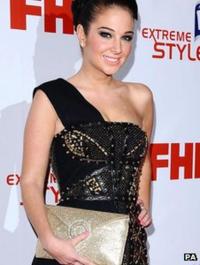 Tulisa Contostavlos has been voted the world's sexiest woman by readers of men's magazine FHM.
The 23-year-old replaces Devon model Rosie Huntington-Whiteley who topped the list in 2011.
The X Factor judge last appeared on the list two years ago at number 15.
Talking on the red carpet of a party to celebrate the announcement, Tulisa said she was shocked by the result. "[This is] probably the most self-indulgent award I've ever received," she said.
Cheryl Cole and Rihanna complete the top three.
Tulisa said she believed being sexy was more than just physical.
"Its about confidence and feeling confident in your own skin, no matter what that skin is," she added.
"I just think everyone should see me first thing in the morning before making this decision."
Recently Tulisa, who released her first solo single Young this week, has been making headlines over her personal life.
It's after an explicit video featuring the singer appeared on the internet.
Despite this X Factor boss Simon Cowell said she'd keep her job on the show when it returned.
Kelly Rowland announced she would be leaving the programme earlier this week and Tulisa says she would welcome the return of Dannii Minogue.
"I have heard about this," she said. "I think she's a lovely girl.
"I watched her on the show when I started and I am sure we'd get on like a house on fire."
There was no place in the top 20 FHM list for Kim Kardashian, Beyonce or Scarlett Johansson.
Meanwhile Rita Ora, Pippa Middleton and Zooey Deschanel were all new entries in the top 100 list.
The top 20 of FHM's 100 sexiest women in the world 2012 is as follows:
1. Tulisa
2. Cheryl Cole
3. Rihanna
4. Rosie Jones
5. Georgia Salpa
6. Katy Perry
7. Megan Fox
8. Keeley Hazell
9. Mila Kunis
10. Emily Atack
11. Pippa Middleton
12. Pixie Lott
13. Daisy Lowe
14. Mollie King
15. Millie Mackintosh
16. Jessie J
17. Zooey Deschanel
18. Rosie Huntington-Whiteley
19. Frankie Sandford
20. Kelly Brook