Calls for beer tax rethink as 12 pubs shut every week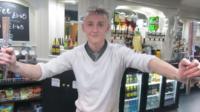 The Campaign For Real Ale (Camra) says 12 pubs are closing across England, Scotland and Wales every week.
The consumer group says the figure, up to the end of March 2012, is a drop on its previous findings.
Despite the fall, Camra is concerned about the number of suburban and rural pubs shutting for good.
"It's encouraging to see it slowing down but behind that figure we've seen 4,500 pubs close since 2008," said Camra's Chief Executive Mike Benner.
"It's certainly not good news."
'Unaffordable activity'
It blames the rate of closures on the recession, the tax on beer being too high and supermarkets selling alcohol cheaply.
"Going to the pub is increasingly becoming an unaffordable activity," said Mike. "A third of the price of every pint you buy is now taxation. Excise duty on beer has increased by 42% since 2008."
Camra wants to see a halt on above-inflation beer tax increases and has launched an e-petition.
The Government says they are taking action to support pubs.
"We have doubled small business rate relief for two and a half years, which gives up to 100% rate relief for small firms including pubs," said Communities Minister Bob Neill.
Supermarket effect
They also say they're tackling the cheap deals offered by supermarkets.
There are plans to introduce a minimum price of 40 pence per unit of alcohol in England and Wales.
Similar proposals are being considered by the Scottish Parliament and by health authorities in Northern Ireland.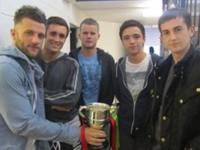 That could see the end of multibuy or buy one get one free deals.
However, it's unlikely any minimum pricing introduction would substantially reduce the gap between buying a beer in store and buying a pint in a pub.
Kieron Barton, a 21-year-old student from Lancashire, doesn't think it would make a difference.
"I don't really go to pubs at all to be honest. It's not a place you'd want to go," he said. "You just prefer to get drinks at your mate's house."
James Harding is manager of the Withy Arms pub in Bamber Bridge, Lancashire. He doesn't think people are put off by the price of a pint.
"If you create the right atmosphere where people want to be, people will come and spend that bit more."