Former glamour model Katie Price to marry for third time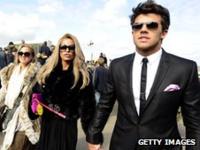 Katie Price is to be married for the third time after confirming she is engaged to boyfriend Leandro Penna.
The 33-year-old met Argentine Penna, 26, in March last year.
No date for the wedding has been announced. Katie Price tweeted: "Woooo hoooo so excited," and "Thank you for all your nice tweets! I'm gonna enjoy the sunshine where I've just landed x".
The businesswoman and former glamour model was married in 2005 to Peter Andre, with whom she has two children.
They divorced in 2009, and Katie married cage fighter Alex Reid in Las Vegas the following year.
Their divorce was agreed in court last month.
In a statement released by the model last January, she said: "Alex and I have had a number of difficulties over the past few months.
"I accept that these were in part caused by my marrying too quickly - we all make mistakes and this was one. However, Alex changed from the man I fell in love with."
Katie Price picked up her second celebrity mum of the year award earlier this year.