Under-18s banned from Lady Gaga gig in South Korea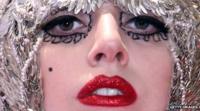 Authorities in South Korea have deemed singer Lady Gaga's Born This Way Ball tour too sexual for under-18's and have banned them from attending.
Korea's media rating board said the concert would be harmful for young people.
Officials objected to the music, costumes and what they called 'obscene' performances.
It comes as some religious groups held several protests against the event.
Tens of thousands of fans flocked to Olympic Stadium in southern Seoul dressed up as the pop star.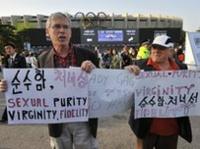 Protest were held outside the stadium.
But Christian groups also took action in a rally elsewhere in the city, handing out leaflets which read:
"Lady Gaga ... is a wounded soul that is in desperate need of restoration. Therefore Christians should love and bless her. We should hate the evil spirit behind her, not Lady Gaga herself."
The singer is expected to perform 110 shows this year after the success of her Born This Way album, which sold 6 million copies worldwide since its release last May.