Britney Spears' fiance to help look after her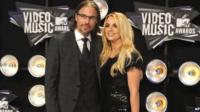 Britney Spears' fiance has been given permission by a judge to act as a co-conservator for the singer.
The ruling means Jason Trawick will now help manage decisions in the singers personal life.
Exact details about his responsibilities haven't been released.
But, if they choose to, a conservator can legally intervene in that person's lifestyle. That could include controlling where they go and even what they eat.
The pair got engaged in December last year. Before that Trawick was employed as her agent.
According to a recent rich list - Britney Spears, 30, is worth £120m ($200m).
Since 2008 Jaime Spears, the singer's father, has been in legal control of some of her finances following her public meltdown.
After months of erratic behaviour, which included her shaving all her hair off, Britney Spears was sectioned and spent a week on a psychiatric ward in a Los Angeles hospital.
It appears the singer's career is back on track.
In March 2011, Spears released her seventh studio album Femme Fatale, which reached number eight in the official UK album chart.
Jason Trawick's request to be added to the list has prompted rumours the pair could be preparing to tie the knot.