Who is Sun owner Rupert Murdoch and what does he do?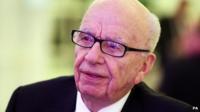 The man who owns The Sun, Rupert Murdoch, is back in the news again.
The 81-year-old's been giving evidence to the Leveson Inquiry into ethics in the media industry.
He's been questioned about last year's phone hacking scandal at The News of the World and allegations that journalists on his newspapers made illegal payments to public officials for information.
But who is Rupert Murdoch and how did he become such a powerful figure?
Newspaper background
Murdoch was born in Melbourne, Australia, in 1931.
He went to school at Geelong Grammar School, where Prince Charles spent two terms, and then went on to study at Oxford University.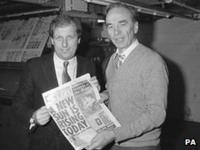 His father, Sir Keith Murdoch, died when he was 22 leaving him a half share in two Adelaide newspapers.
He spent the next decade or so buying papers in Australia including Perth's Sunday Times and Sydney tabloid, The Daily Mirror.
In 1968 he bought The News of the World, followed a year later with the purchase of an ailing Sun.
He went on to buy The Times and The Sunday Times and moved all four papers into a new electronic printing plant in east London in 1986, sacking 5,000 workers in the process.
Despite fights with pickets outside the Wapping offices, the move changed the way newspapers were run in the UK.
He closed Today newspaper in 1995 before shutting the News of the World in 2011 after the phone hacking scandal.
Television empire
As well as being the owner of four UK newspapers titles, Rupert Murdoch launched this country's first satellite TV service.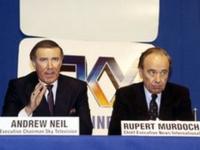 Sky Television started transmissions in 1989.
The company, which became BSkyB after merging with a rival broadcaster, bought the rights to top flight football in 1992 launching the FA Premier League.
He became a US citizen, buying film studio 20th Century Fox before setting up America's fourth television network - Fox.
His News Corporation company also owns Hong Kong's Star TV which broadcasts to most of Asia by satellite.
He tried to buy Manchester United in 1998 but the bid was blocked by the Competition Commission.
Political and private life
In the 1980s Rupert Murdoch developed an alliance with Conservative Prime Minister Margaret Thatcher.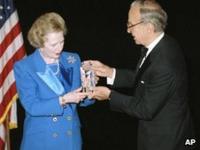 In 1997 he backed Labour leader Tony Blair and has had personal relationships with leaders in Canada, Australia and America.
Rupert Murdoch has been married three times.
He divorced second wife, Anna, after 32 years together and tied the knot with TV executive Wendi Deng in June 1999.
He was ranked 117th wealthiest person in the world in 2011 and is believed to be worth around $6.3 billion.