What it's like to grow up on the Falkland Islands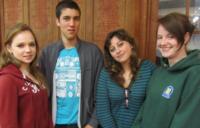 Eighteen-year-old Barbara Short-Pardo remembers quite clearly the first time she had to use a train.
"It was really weird having to change platforms," she says. "Even using the little ticket machines, I was just so shocked."
It's not necessarily that shocking for people living in the UK, but it can be strange for a Falkland islander, used to living 8,000 miles from the British mainland.
Barbara's friend, 17-year-old Sonia Arkhipkina, says there isn't much need for any public transport on the islands, especially in the main town of Stanley.
"It takes about 10 minutes to get from one end to the other. I think it's impossible to get lost."
Barbara and Sonia are among the small contingent from the Falklands currently boarding at Peter Symonds College in Winchester.
A group of students are flown over by the Falklands authorities every year to study their A-levels.
They've been speaking about growing up on the islands, 30 years since the Falklands war between the UK and Argentina.
The South American country invaded the British-owned islands in 1982. They lie 300 miles off the Argentine coast.
By the time Britain had recaptured the islands, more than 900 people had died, including 255 British servicemen.
Memories
Eighteen-year-old Caitlin Burston was born on the Falkland Islands.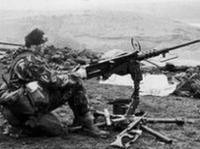 "My mum and grandparents were on the islands when it (the war) happened so you get stories from them but they don't really talk about it a lot. It's not something they like talking about.
"You're part of the UK," she says. "But you're completely different because it's a different environment, setting and surrounding. You're a bit of both, British and a Falkland islander."
Sonia thinks the war is part of her life, even though she wasn't born when it happened.
"I think it's important to commemorate what happened," she says. "We used to go to the parades and supported the community that way."
Island life
The teenagers stress that life isn't all that different on the Falklands, there's just far less choice and things are a lot slower.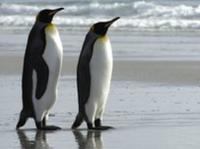 Even though they have internet, Barbara says it can take "up to an hour" to load a video on YouTube.
The lack of 3G can be frustrating too.
"I live on my phone over here," says Caitlin. "Then I go home and I don't use my phone at all."
As for wildlife, sheep outnumber the islanders considerably and the huge numbers of penguins are "a bit smelly" according to Barbara.
The island also has a football team but Sonia says "they lose every time".