Hard-Fi to play FA Cup final at Wembley Stadium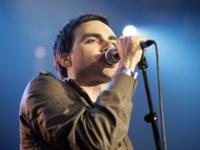 Hard-Fi will be the headline act at the FA Cup final at Wembley Stadium.
The Living for the Weekend band are booked to provide the official pre-match entertainment before Chelsea and Liverpool go head to head on 5 May.
The announcement, made by the Football Association, means the four-piece will be playing on the pitch just minutes before the game starts.
Frontman and Brentford fan Richard Archer said performing at the stadium has always been an ambition.
"We can finally say that we've played Wembley Stadium and it will be a fact," he said.
"The FA Cup final means it's going to be a great day although it's a shame Brentford won't be there ...I think we got knocked out back in 1967."
Their set will be limited to just three and a half minutes.
The Brit Award-nominated band from Staines will then be watching the game closely as bassist Kai Stephens supports Chelsea and drummer Steve Kemp is a Liverpool fan.
"Ever since we found out we were playing at The FA Cup final I've been willing Liverpool to get through," said Kemp.
The Enemy have also confirmed they will perform before the final.
They will be playing on the roof of the stadium as part of ESPN's Talk on the Terrace show.