Justin Bieber pens song about Yeater's baby mama claim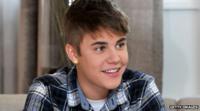 Justin Bieber has written a song about the woman who falsely claimed he had fathered her child.
Last year Mariah Yeater took out a paternity case claiming she got pregnant after a backstage encounter with Bieber at one of his concerts.
The 20-year-old has since withdrawn her legal action.
Discussing the inspiration for his next album, Bieber said he'd written "songs like that girl - Mariah Yeater - who said she was going to have my baby".
He added: "I wrote about that situation."
'Different styles'
The 18-year-old singer was speaking at a London club where journalists had gathered to hear new tracks from his upcoming album Believe.
It's not yet known if the song about Yeater will make the final track listing for that album.
In pictures: Justin Bieber in UK
To prevent any recording of the unreleased songs, journalists had to hand in all mobile phones, bags, coats and scarves before entering the venue.
Everyone was then subjected to a further airport-style pat-down by security before being allowed inside.
"We've recorded like 40 songs," Justin Bieber said.
"Every song has a piece of me, it's hard to pick. I wrote almost all of them or co-wrote them."
The singer revealed he'd collaborated with Drake, Ludacris, Taylor Swift and Kanye West on his new material, admitting "it's so cool to do different styles and step out of my comfort zone".
Despite recent rumours, Justin Bieber also said there were no plans at the moment for him to work with either One Direction or The Wanted.