Parade for armed forces who took part in Libya conflict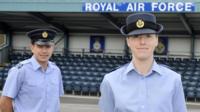 RAF, Navy and Army personnel have been on parade at the Houses of Parliament to mark their contribution to the Libyan conflict.
The country's ex-leader Colonel Muammar Gaddafi was killed last October following an uprising there.
During the fight the UN Security Council authorised a no-fly zone over Libya and air strikes to protect civilians.
The RAF worked on those strikes as part of Operation Ellamy.
'Very proud'
Senior Aircraftman Luke Molson from 90 Signals Unit was serving in Afghanistan when he got the call to say he was needed.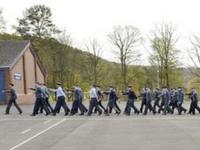 "We were in Camp Bastion when we were told to get ready to move," said 26 year-old Luke, who's based at RAF Leeming in North Yorkshire.
"Our role there was to provide communications so the planes could go and do their missions.
"I'm feel very proud that it's been recognised that we've done a job and the whole Royal Air Force pulled together."
'There within hours'
Senior Aircraftwoman Hayley Fellows, also from 90 Signals Unit, was one of the first to arrive in Italy.
"Within 72 hours we were taken from a field exercise and deployed to Italy," said the 23-year-old.
"We had to relay the information the pilots collected back to the United Kingdom so the intelligence could take place.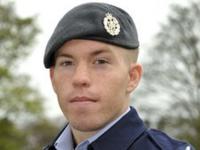 "I'm really honoured that the United Kingdom wants to recognise us for all our efforts and hard work."
Senior Aircraftman Brendon Bale is from II (AC) Squadron at RAF Marham.
The 21-year-old provided personnel support to all those in the RAF who were deployed.
"I was the link to those out in Italy and back home so I see myself as a bit of a morale booster," he said.
"One of my jobs out there was collecting the mail for the squadron which was a real boost for the guys.
"I'm really looking forward to the parade and it will be a real honour to march through London, marking a really big achievement."