Britain's Got Talent unhappy about The Voice overrun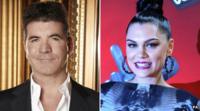 A senior manager at ITV has suggested that the BBC aired a longer than scheduled version of The Voice in order to affect ratings.
Saturday's edition of the BBC One talent contest ran for 93 minutes, three minutes longer than expected.
It meant that for 180 seconds it clashed with ITV's Britain's Got Talent, which started at 8.30pm.
Both networks have spent millions of pounds trying to win over viewers during the weekend prime time slot.
Mike Large, director of communications at ITV, wrote on Twitter: "Was #TheVoiceUK tonight live? Surely that can be the only reason #BBC1 overran by 3 minutes...."
In a statement, a BBC spokesman said shows often overran by a few minutes and that producers had already cut the pre-recorded show by 10 minutes and couldn't lose any more footage.
'Strange coincidence'
Another tweet from Mike Large said: "Probably just a rather strange coincidence that #TheVoiceUK overran by 3 minutes last night and overlapped with #BGT...."
ITV released figures that suggest that between 8.30pm and 8.35pm the audience for Britain's Got Talent jumped suddenly from 5.9m to 10.2m.
Mike Large's comments are the latest in the ongoing battle between the channels over the Saturday night prime time slot.
Originally, Simon Cowell decided to start Britain's Got Talent earlier than in previous years so it could go head to head against The Voice.
The two shows had an overlap of 30 minutes but ITV changed its scheduling after seeing more people watch The Voice when both shows were on air at the same time.
At the weekend, the peak audience for The Voice was 11.6m, compared to Britain's Got Talent at 11.1m (including ITV1+1 viewing).