'Director chosen' for Hunger Games sequel Catching Fire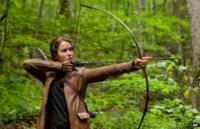 Francis Lawrence has been chosen to direct the sequel to The Hunger Games, Catching Fire, according to the Hollywood Reporter.
The man behind Will Smith film I Am Legend and TV series Touch replaces Gary Ross, who was in charge of the first instalment of the film franchise.
The Hunger Games is the first film since Avatar to top the North American box office for four weeks in a row.
The film franchise is based on a series of three books by Suzanne Collins.
Original director Gary Ross said he had decided not to make the next instalment in the trilogy "after difficult but sincere consideration".
Ross said the tight production schedule for the second film, due to be released in November 2013, left him with little time to prepare.
He denied reports that he had fallen out with distributor Lionsgate.
Jennifer Lawrence plays the lead role of Katniss Everdeen with Woody Harrelson, Elizabeth Banks and Donald Sutherland also appearing in the movie.
The Hunger Games follows a girl who is forced to take part in a televised fight to the death.
Catching Fire will have to be finished quickly though as Jennifer Lawrence is due to start shooting the sequel to X-Men: First Class next January.