Hayley Williams: Paramore begin recording for new album
20 April 2012

From the section

Music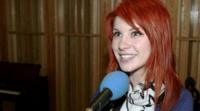 Paramore are back in the studio and have recorded the first track for their fourth album.
Writing on the band's website, singer Hayley Williams said the song was called Daydreaming - a track written in a hotel room in February.
The 23-year-old said she wasn't sure when the album would be out, but added that never had "so much time and care [been] put into a Paramore album".
The record will be the follow-up to 2009's Brand New Eyes.
However, the singer admitted that writing for the album had initially been a chore.
"There's no reason to lie about it, the first few months of writing were ridiculously draining and a lot more of a pain than a pleasure," said Hayley.
'Unexpected' songs
In January though, things changed, and the creative flood gates opened, said the singer.
"Inspiration started filling us up again, we were more than willing to let it take us wherever it wanted.
"We've written a lot of songs I never thought we would write."
But fans of the band may have to wait a while for the album to emerge.
In the blog post, Hayley admitted the band didn't have a fixed schedule: "We cannot assure you it will be out this year.
"What we can tell you is that from now on, when we go in to create this thing, whether for a day at a time or for a month, you will be kept more informed."
The album will be the band's first since founding members Josh and Zac Farro quit at the end of 2010.
At the time, Josh Farro claimed the band was too manufactured and that other members were "less important" than Hayley Williams.