Adele joins Time's 100 most influential people in world
19 April 2012

From the section

Music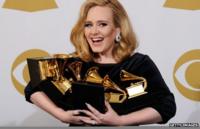 Adele has joined the likes of US President Barack Obama, footballer Lionel Messi and hackers Anonymous on Time Magazine's list of the world's 100 most influential people.
The singer, 23, made the rundown for the first time after a hugely successful year.
She has sold more than four million copies of her second album, 21, and won six awards at this year's Grammys.
Also making it onto the list for the first time is Pippa Middleton.
The 28-year-old is joined by her sister, the Duchess of Cambridge.
Celebrities making it onto the rundown are Rihanna, Claire Danes, Viola Davis, Jessica Chastain and British actress Tilda Swinton with a host of world leaders named.
They include Israeli Prime Minister Benjamin Netanyahu and German Chancellor Angela Merkel but British Prime Minister David Cameron is not in the top 100.
Rogues
The list is broken into moguls, breakouts, icons, pioneers and leader categories and is compiled by Time through an online poll of readers.
This year Time chose 38 women for the list, more than any previous year.
Americans still dominate the list but there are 54 international names, the first time they have outweighed people from the US.
This year's rogues are North Korean leader Kim Jong Un, Syrian president Bashar al-Assad, Taliban leader Mullah Mohammed Omar and Sheik Moktar Ali Zubeyr from al-Shabab, an Islamic militia.
Time managing editor Rick Stengel said the list was "about the infinite possibilities of influence and the power of influence to change the world.
"Now you can tweet a phrase that reaches millions in a flash.
"Influence was never easier, or more ephemeral. Which is why we try to choose those people whose influence is both lasting and, with a few notable exceptions, laudable."
Other notable inclusions are tennis player Novak Djokovic, Mashable founder Pete Cashmore and Apple's Tim Cook.