Zoe Smith aiming for Olympic weightlifting place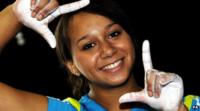 Zoe Smith, 17, is one of the country's brightest young Olympic hopefuls. But she's not competing in track and field or in the pool - Zoe's a weightlifter.
The London-born athlete recently passed the standard for the Olympic team - lifting twice her bodyweight - so things are looking good for selection.
She spoke to Newsbeat about her ambitions.
"Any Olympic hopeful's dream is to be standing first place on the podium with a gold medal round their neck, singing the national anthem," she admits.
"But I've got to be realistic - it's going to be my first Olympic Games, hopefully of many.
"I'm just going to try as hard as I can to get there."
Zoe's already won a weightlifting bronze at the 2010 Commonwealth Games - the first by an English female.
Success doesn't come easy though: "I'm training five times a week for about two hours, maybe a little bit more.
"We do the two Olympic lifts, which are the snatch and the clean and jerk.
"But we also do assistance stuff like shrugs, squats, pulls - anything to build your strength up."
At this month's European Weightlifting Championships she surpassed the British Olympic standard.
Registering new personal bests, she lifted 92kg in the snatch and 116kg in the clean and jerk.
Stereotypes
Zoe used to be a gymnast before she tried weightlifting for the London Youth Games.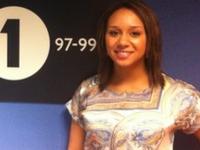 "They chose me because I looked stronger than the rest and quite powerful. I'm not particularly graceful either," she admits.
She's also keen to comment on certain misconceptions: "All the girls on the British team don't really look like stereotypical weightlifters."
"There are people who think all weightlifters are on steroids and have hair coming out of their face."
Zoe's career hasn't all been plain sailing so far though.
She had her funding cut in 2010 over claims that she wasn't committed.
To prove her dedication she moved to Leeds to be close to top coaches, but found the training wasn't beneficial, so returned to London.
Zoe admits saying that the British weightlifting organisation made her feel like a "fat cow".
But she says the media blew the comment out of proportion: "They took that to mean 'fat' rather than overweight for my category.
"It was said as a throwaway line in an interview once and it has just stuck."
Zoe reckons the Olympics will be something everyone can be proud of.
"I can kind of see why people outside London might not have the same kind of excitement as people in London," she admits.
"[But] while it is the London Olympics, it's still GB's home Olympics. I think it should be for everyone to get excited about."