Is Conor Maynard the UK's answer to Justin Bieber?
18 April 2012

From the section

Music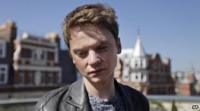 Like Justin Bieber, Conor Maynard was discovered after posting cover versions on YouTube. But the teenager says that's where similarities between the pair ends.
The 19-year-old claims he uploaded the tracks just so friends could hear him sing.
"Then as I got more into it I bought a proper microphone and got a proper camera," he reveals.
His fans now include US singer Ne-Yo and producer Pharrell Williams.
Conor acknowledges that without the internet and sites like YouTube the world may never have heard his voice.
He says: "I didn't have a strategy of how I was going to get loads of views. I was just posting random songs I liked for my friends to see."
'I'm famous'
What started off as a bit of fun soon became a pathway into the mainstream after he covered Usher's song OMG.
"That was my first video to ever get 100,000 views," he says.
"And I was like, 'I'm famous. I made it.' Obviously that wasn't the case."
Serious interest in Conor started when he recorded his own version of another US star's track.
"I did a cover of Ne-Yo's Beautiful Monster and that went to a million views," he reveals.
Four years after his first self-produced video Conor has signed a deal with record label Parlophone.
The success of the footage, often shot in his own bedroom, also led to Ne-Yo personally calling Conor and inviting him to America.
"It was 1am and I was sitting on Skype with Ne-Yo trying to be really quiet because it was so late and I didn't want to wake my mum because that would be so embarrassing."
Originally from Brighton, Conor now lives in London where he's working on his debut album.
As well as Ne-Yo, he's also spent time in the studio with producer Pharrell Williams.
Conor Maynard's debut single Can't Say No was released this week.