One Direction and the battle over band name trademarks
13 April 2012

From the section

Music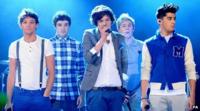 One Direction may be facing a lawsuit in the US but they're not the first group to have had trouble with their name.
This year's X Factor winners started off as Rhythmix but changed to Little Mix after a charity called the same thing complained.
The Verve were originally just Verve and Westlife were Westside.
So here's some advice on what bands or artists need to know when choosing their name.
What is the law?
One Direction are being sued by a Californian pop rock band for trademark infringement.
Lawyers want to stop the UK boys from using the name, claiming compensation and a share of their profits.
A trademark is the legal right to use a name to show where a product or service comes from.
It is normally registered officially in the government's Trade Marks Journal. But some bands could have an unregistered trademark if they can prove their name is well-known enough.
How do you know if a name is already taken?
"Before you even think about applying for a trademark, you should make sure you can use the name," says trademark attorney James Setchell.
Anyone can search the Trade Marks Journal at the Intellectual Property Office's website.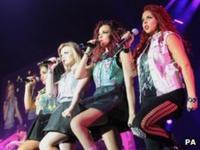 It is also important to search the internet for any bands, domain names or limited companies that could claim they had the name - or a similar name - first.
David Fenton, a lawyer at the Musicians' Union, says bands should be original.
"As soon as you've chosen a name, you don't want to spend all your life in court trying to protect it.
"You might as well choose a name that nobody has thought of."
How can you register a trademark?
Bands have to apply to the IPO to get a trademark on their name but it can be a lengthy and expensive process.
"It's not just about filling in an application and getting the trademark," says James.
He says it can take four to six months for the IPO to decide whether the name can be registered.
If anyone has the name as a trademark already, it is down to them to object to the application.
The basic cost of a trademark is £170 if you apply online. But the total depends on what the trademark is needed for.
Many musicians also pay a lawyer to help with the application.
Trademark laws are different across the world so the name has to be registered again in every country it is needed.