50 Cent to play Sly Stallone's sidekick in The Tomb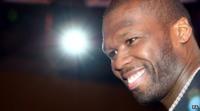 Rapper 50 Cent has revealed he will play Sylvester Stallone's right-hand man in the new action film The Tomb.
The 36-year-old, real name Curtis Jackson, will appear as a reformed cyber criminal in the 2013 release alongside Stallone and Arnold Schwarzenegger.
"I'm Stallone's assistant," he said. "It's going to be cool."
The film follows a security expert who is wrongly locked up in an escape-proof prison he designed.
The rapper said he was looking forward to working with the veteran actor after after missing out on a role in his 2010 movie The Expendables because of music commitments.
'Passion'
"I play a computer expert who has been incarcerated in the past for cyber crimes, and I work for Stallone's character now as he goes in and out of the different systems," he said.
"It's cool, it's a really cool project."
The rapper, who rose to fame in 2003 with Get Rich or Die Tryin', told Newsbeat he hoped to release his new album on 2 July, 2012, after settling an argument with his record company Interscope
He is also starring in the upcoming film All Things Fall Apart and said he was happy combining his acting and rapping careers.
"I love both of them," he said.
"When you actually make music, I think what you do for relaxation is go to film and television.
"In film, I have had moments where I just got a chance to appreciate it from a fan's perspective... I developed a passion for it and wanted to be a part of different things."