Game of Thrones to get a third series, confirms HBO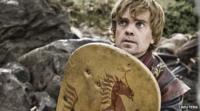 Game of Thrones is to return for a third series, HBO has confirmed.
Michael Lombardo, the network's head of programming, praised the show's success and creators David Benioff and D.B. Weiss.
"[They] raised our expectations for the second season - and then surpassed them," said Lombardo. "We are thrilled by all the viewer and media support."
The medieval fantasy show has been a big hit in the US. The second series is now airing in the UK on Sky Atlantic.
HBO says that average US viewers for the Golden Globe-winning series are on course to "easily surpass" the season one average of 9.3 million viewers.
"[We] can't wait to see what Dan and David have in store for next season," said Michael Lombardo.
The series, set in the fictional world of Westeros, is based on the A Song of Ice and Fire novels by George R.R. Martin.