The Darkness: Lady Gaga tour will be a challenge
10 April 2012

From the section

Music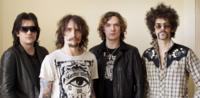 The Darkness' Justin Hawkins says he's looking forward to the "challenge" of supporting Lady Gaga on tour this year.
The lead singer and guitarist said: "I don't expect it to be plain sailing, but it never is. It's not supposed to be."
The Suffolk rockers, who reformed in 2011 after a five year break, will support the singer on her forthcoming Born This Way Ball European tour.
It includes dates in London and Manchester in September.
Lady Gaga confirms UK tour dates
'Delighted'
Speaking to Newsbeat Hawkins said: "It was put to me as a question - do we want to be a main support band on one of the biggest - if not the biggest - stadium, worldwide mega-tours that have ever been? And, I think I replied, 'Yes please'.
"It was really straight forward."
Hawkins admitted that he was a fan of the New York singer but said that they had yet to meet.
"I'm surprised that we're considered heavy enough for it," he said. "I think she likes a lot of stuff that's more extreme than what we do. Obviously, I'm delighted.
"I have no expectations - we're going to turn up and enjoy it."
Details of the Born This Way Ball production have been closely guarded with Lady Gaga teasing fans with a sketch of the staging.
"We haven't seen anything," said Hawkins. "I've seen a poster, the mock-up of a poster, which looks ridiculous - in a good way."
Known for his own outrageous stage attire, Hawkins said he was looking forward to seeing Gaga's costumes for the new tour.
"I think there will be some sneaky glances into each other's wardrobe area - more out of professional curiosity than any competition."
The Darkness are due to release a new album in 2012, their first since 2005's One Way Ticket To Hell... And Back.