Row in America over gay characters in EA video games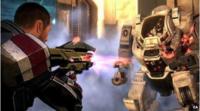 A row has broken out in America over a computer games company including gay characters in its storylines.
Electronic Arts is being criticised by Christian campaign groups who say it is setting a bad example for young people.
Over the last few years EA has introduced gay characters, giving the option to flirt, kiss and go for a drink in a virtual bar.
It's thought several thousand complaints have been received but EA says it has done nothing wrong.
The company has reportedly described the complaints as "political harassment" and said the 'gay' content is only an customisable option, not a mandatory part of the game.
Mass Effect 3 and Star Wars: The Old Republic are two high profile games that are being criticised.
The Florida Family Association, a US Christian campaign group, is encouraging people to contact EA and Lucasfilm to protest.
It says there are no gay characters in the Star Wars films and describes the inclusion of LGBT (lesbian, gay, bisexual and transgender) elements as "propaganda".
Jeff Brown, EA's Vice President of Corporate Communications, told gamesindustry.biz: "Every one of EA's games includes ESRB content descriptors so it's hard to believe anyone is surprised by the content.
"This isn't about protecting children, it's about political harassment.
"In short, we do put options for same-sex relationships in our games; we don't tolerate hate speech on our forums."
On Monday, Stephen Fry and Screenwipe host Charlie Brooker both tweeted their support of EA.
Brooker posted a link to a petition, which currently has 64,000 names, and wrote: "EA targeted for including gay romance in a videogame? What is this, the 1930s? No. We didn't have games back then."
Stephen Fry added: "If you do nothing else today, do join me and @Yoda to help game-maker @ea stand strong against anti gay hate & the dark side."