The Wanted: No rivalry with One Direction in America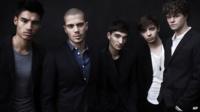 The Wanted says there is no rivalry between themselves and One Direction, who have also been on tour in the US.
Both boy bands bumped into each other while rehearsing for tonight's performance on American Idol [5 April].
"We keep on meeting them everywhere we go," The Wanted's Nathan Sykes said, speaking to Radio 1 Newsbeat from LA.
"Basically all of us were congratulating each other on how well it's all going."
He added: "When's there are two boy bands together, the media kind of try and pitch us against each other.
"We are in direct contact and speak all the time. We get on really well.
"There are a lot of quotes that we've gone, 'That was never said. We never said that.'"
The group will be performing their track Glad You Came on American Idol, which reached number five in the US charts after it was featured on TV show Glee.
The Wanted are the first UK boy band to enter the top three in the American iTunes chart.
At 18, Nathan is the youngest band member, but you have to be 21 to be able to legally drink alcohol in the US.
"It's a bit crazy here in the US because all the boys, they can drink out, but I can't," Nathan said.
"So I've got to stay in the hotel. But it's OK because I get to Skype all my friends back home. When all the boys have a hangover, I have no sympathy whatsoever."
The Wanted's new Single Chasing The Sun, written and produced by Example, is out on 20 May.