The Hunger Games cast members in 'race row'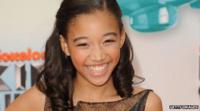 Racist remarks about some of the actors in hit film The Hunger Games have been appearing online.
The posts are directed at African-American cast members and include tweets like: "Why is Rue a little black girl? #sticktothebook."
But writer Suzanne Collins was heavily involved in the film and Rue's race was never made clear in her book.
The film is top of the box office in the UK and US. Lionsgate are not commenting on the row.
The Hunger Games is part of a trilogy of books and tells the story of 24 teenagers fighting for survival on live television.
On release for just 10 days, it has already made millions worldwide.
A key part of the film's success - like other film adaptations - is that fans of the books believe in the on-screen portrayal of the characters.
But some fans seem angry at the casting of a few of the characters, such as Rue, Thresh and Cinna, and have been tweeting that they're disappointed.
'Dark skin'
That's despite lines in the book suggesting Rue and Thresh character could be black.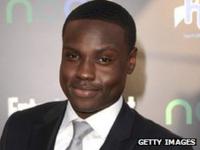 In one section, Collins writes: "The boy Tribute from District 11, Thresh, has the same dark skin as Rue - but the resemblance stops there."
Jennifer Lawrence, who plays heroine Katniss Everdeen, says the film version is how she pictured it after reading the novel.
"You don't see anything and go 'Oh, that doesn't look right'... it's remarkable."
Most fans seem happy with the film though, and producers Lionsgate say the film has become the fastest non-sequel in US history to bring in $250m.
Latest figures show The Hunger Games has taken $364m (£228m) worldwide.
Catching Fire, the next in the trilogy, is scheduled to come out in November 2013.