Megaupload founder Kim Dotcom allowed back online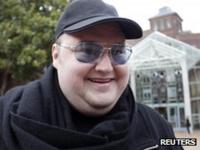 The founder of file-sharing website Megaupload, Kim Dotcom, is being allowed back online.
A judge in New Zealand said his behaviour since his arrest in January appeared to have been "exemplary".
German national Dotcom, also known as Kim Schmitz, had been denied web access under his bail conditions.
The 38-year-old remains under house arrest as prosecutors in the US try to extradite him on charges of internet piracy and money laundering.
They accuse him of making money by allowing people to share millions of illegal downloads of copyrighted material on his website.
The judge ruled Kim Dotcom could go swimming once a day and travel twice a week to a studio in Auckland to record music.
He is also allowed to meet other co-accused Megaupload staff once a week ahead of an extradition hearing in August.
Megaupload was shut down on 19 January.
It had around 150 million registered users, making it one of the most popular file-sharing services in the world.
US federal prosecutors have accused Megaupload of costing copyright holders more than $500m (£311m) in lost revenue.
In a court hearing in January, Kim Dotcom's lawyers said his company simply offered online storage and that their client was innocent.