Ben Howard: Ibiza Rocks homecoming gig is a real treat
3 April 2012

From the section

Music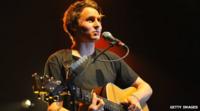 Ben Howard says it's a "real treat" to play a homecoming gig at this summer's Ibiza Rocks festival.
The 23-year-old singer/songwriter has family on the island and spent a lot of time there growing up.
"Being on the bill with all these amazing acts is a real treat," he said. "Just to get asked to a Ibiza Rocks is a big thing."
Other names on the bill include Ed Sheeran, Kasabian, Example, Professor Green and Tinie Tempah.
"I've been going to Ibiza all my life really, since I was a kid," he added. "My grandad has lived there for about 50 years.
"He set up one of the first bars on the sea-front in the old port."
The singer's parents also live on the island and Ben Howard says his family is getting excited about his Balearic island debut.
Mum's excitement
"I know my mum's already gone mental and started buying loads of tickets," he said.
"I was like, 'Mum, it's all right. You can get on the guest list now.' She's telling all her friends."
Ibiza Rocks kicks off on 5 June with gigs every Tuesday and Wednesday.
Ed Sheeran is playing the opening party, with Two Door Cinema Club finishing off the summer on 19 September.
Ben Howard reckons the festival's eclectic line-up is spot on and is glad it's not just dance acts on the bill.
"It's nice to have guitar music and not just DJ stuff," he said. "There's been a big lack of that on the island."
Despite that, the singer - who was raised in Devon - admits he's not a stranger to the island's famous dance scene.
"I've done the Space opening and closing parties," he said.
"They're really fun but I'm not a huge clubber. I think it [Ibiza] gets a bad rep though.
"Anyone would tell you that 90% of the island is pretty chilled."
The singer's on a tour of small North American venues with other acts on his Communion label and has just made his New York debut.
"It's been going amazing, really cool audiences," he said.
After his current stint, he's playing shows in Europe before gearing up for summer festivals including Radio 1's Hackney Weekend, T in the Park and V.