Forces need more ethnic minorities says senior officer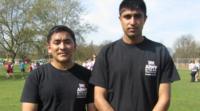 The most senior ethnic minority serviceman in the Armed Forces says the military must work harder at recruiting people from diverse backgrounds.
Rear Admiral Amjad Hussain says a lack of Asian and black role models is making it more difficult to get minorities to sign up.
He's been in the Royal Navy for nearly 40 years and insists that it must continue trying to tap into those hard to reach communities.
He said: "I think it may be time to push harder at quotas and targets then we have been and investing even more effort, but of course it is quite expensive to do that."
Twenty-three-year-old Tej Dosanjh is a corporal in the Army - and a British Sikh.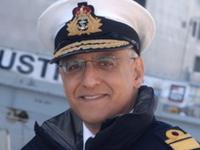 He joined when he was 18 after seeing an Asian army recruitment officer in Birmingham.
"I liked playing football and in the Army you can play football - and you get paid for it, so it was a big selling point for me," he said.
He is one of around 5000 British ethnic minorities in the Armed Forces - out of a total of a 182,000 personnel.
The government wants to increase that figure to reflect multicultural Britain, but admits it's struggling.
Corporal Dosanjh works with the Army's Diversity Action Recruitment Team, or DART, and focuses on informing communities about life in the military across the country.
"Its not all about guns and war, and my parents thought that, but I sat them down and showed them a brochure, and now my cousin wants to join," he said.
'Killing our Muslims'
But in Slough, where the council estimates almost 50% of the population to be ethnic minorities, young Asians tell us joining the forces isn't an option.
Yasar Khan is a 26-year-old Muslim.
He said: "If we go to Afghanistan to fight against the Muslims we do feel like we're betraying our own people.
"I do consider myself to be British but I am a Muslim first and foremost".
Vakash Aktar, 19, is also a Muslim: "I am unemployed but I wouldn't join the Army, no way," he said.
"I know the money's great but I wouldn't join, not while they are killing our Muslims."
The military says it has done a lot to meet the needs of minorities, like provide kosher and halal food, and let Sikhs and Muslims wear turbans and hijabs.
It says respect for others is one of its core values and cultural awareness training is given to many of its staff.
But at a time when money is tight and there are thousands of job cuts, critics say the focus should be on finding the best soldier, sailor or pilot, no matter what their colour.
Bob Stewart is the MP for Beckenham and was in the Army for 28 years, serving as a commander in Bosnia.
"I never ever thought about ethnic minorities when I was commanding," he said.
"They were soldiers and that was it.
"Political correctness, this silly word, has been taken far too far in society. Let's try and rein it back a bit."