Angry Birds Space gets 10m downloads in three days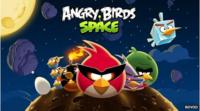 The latest version of the Angry Birds game notched up 10 million download in its first three days of release, says its developer Rovio.
Angry Birds Space only came out on 22 March, but in a tweet on Monday Rovio announced the game's swift success.
The game costs 69p on iPhone but there's some concern over the ad-supported version on Android devices.
A report last week, co-authored by Microsoft, claims advertising is a big cause of app-related battery drain.
The new Angry Birds instalment features 60 initial levels and six new characters and has what Rovio calls a "unique twist in a variable gravity environment".
As well as Google Android and Apple iOS devices, last week also saw the game released simultaneously on PC and Mac.
Nasa was also involved in promoting the game, posting a video showing an astronaut on the International Space Station explaining the laws of physics using Angry Bird characters.
The space agency called it "an exciting way to get people engaged with Nasa's missions of exploration and discover".
However, researchers say Android apps supported by advertising, such as Angry Birds Space, place extra strain on a device's battery.
A report by Microsoft and Indiana's Purdue University found that downloading and displaying adverts, as well as the uploading of user information, can make up to 75% of an app's battery demands.
The researchers looked at six smartphone apps including Angry Birds, FreeChess, and Facebook.
Despite that, the popularity of Angry Birds shows no signs of slowing down.
In November 2011 the series became the first game to achieve 500 million downloads - less than two years after it was released.
Rovio is also developing a film based on the game's characters.