Chris O'Dowd says he's "not sure" about IT Crowd film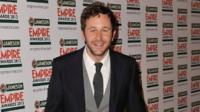 Chris O'Dowd, the star TV series The IT Crowd, says he's "not sure" a movie version of the show will happen.
Speaking at the Empire Film Awards in London, the Bridesmaids actor told Newsbeat he hadn't heard anything about a film but there may be a one-off special.
The comedy series, about an IT support centre, ended last year after four series.
The final series attracted an average audience of 2.5 million for Channel 4.
"As far as I know we were gonna do a special." said O'Dowd. "Then availability ended up being a bit of an issue."
But he has given hope for fans of the show saying he "definitely" wants to do that special by the end of 2012.
Moon Boy
O'Dowd has just finished filming his semi-autobiographical comedy series Moon Boy which'll debut on Sky later this year.
Describing the series he said: "It's about a 12-year-old growing up in the west of Ireland in 1990. It's funny and has lots of funny people in it."
He joked: "It features a much more charismatic version of me."
Chris O'Dowd's career has gone from strength to strength in recent years, appearing in Hollywood films such as Bridesmaids.
Earlier this year he was nominated for the Bafta Rising Star award, eventually won by Adam Deacon.
O'Dowd's IT Crowd co-star, Richard Ayoade, won critical acclaim last year for his directorial debut Submarine.