Being Human gets fifth series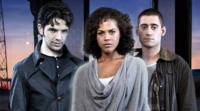 It's been confirmed that Being Human will return for a fifth series. Six more episodes of the the BBC Three drama will air in 2013.
The show is based around a vampire, a ghost and a werewolf living together.
"The response to series four has been terrific," said series creator Toby Whithouse.
"We're thrilled that the audience have taken the new cast into their hearts with such enthusiasm and affection."
It's also been announced that Lenora Crichlow will not return for series five as ghost Annie.
The actress who's been ever present since Being Human began in 2009 said filming her final scenes was emotional.
"I don't know if there's much more for her to do if I am honest. I really will miss playing Annie. She's such a fantastic character to play."
The fourth episode of Being Human finished last night with average viewing figures of 950,000 making it one of the most popular shows on BBC Three.
Lenora went on to say: "Everything she holds dear to her heart is now on the other side. Her love, her friends and her family essentially."
Being Human has also been adapted and turned into a major television series in America.