Cowell is up for BGT ratings battle with The Voice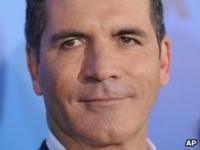 Simon Cowell says "may the better show win" as his Britain's Got Talent on ITV squares up against the BBC's new singing contest The Voice.
Cowell admits he will watch "about 5 minutes" of The Voice but accuses the BBC of "silly rivalry" over the scheduling.
The two shows will clash for twenty minutes when they start on Saturday night, something Cowell is against; "I hope they don't play these games where they overlap, because that is a ratings game".
The Voice will transmit from 7pm to 8.20pm on BBC1 on Saturday with Britain's Got Talent airing from 8pm to 9.20pm.
"They're all grown-ups, whether one goes earlier or one goes later, whatever," Simon Cowell stated at the press launch for the new series.
"But when a show overlaps, it is one network trying to outdo the other one. If they decide they want to compete against us then bring it on".
No big deal
The X Factor judge admits when he first heard that The Voice was coming to the BBC on Saturday nights he "wasn't thinking of it as a particularly big deal".
"I did know that the BBC wanted a show to compete with X Factor," Cowell says, "and they never liked the fact that Got Talent did so well. So it (The Voice) was brought in to deliberately compete with us but I'm used to that so we just went, 'right, well then we've got to make a better show'".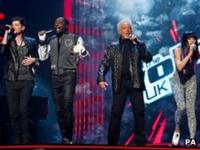 Part of Cowell's strategy was to reinstate himself as a judge and poach Alesha Dixon from the judging panel on the BBC's Strictly Come Dancing.
It's been rumoured Alesha is receiving a much larger pay cheque in her new job on Britain's Got Talent but she insists "it's not about the money".
Speaking at the series launch Alesha said she "doesn't make decisions based on money" and that she feels she's "come into herself more" as a judge on the ITV show.
Near death experience
Amanda Holden also returns to Britain's Got Talent as the only original judge left on the panel.
In January the actress nearly died following complications during the birth of her second child, Hollie.
Holden returned to work 2 weeks after the birth and joked she was "desperate to see Simon".
"In fact I did see him when I flatlined - he is God I swear."
She defended her decision to return to the TV show so soon, saying it wasn't really work it was more "a treat" and that she was "obviously feeling well enough otherwise I wouldn't have gone".
During the press launch Simon Cowell introduced Holden as "the bravest little soldier in showbiz" noting she was "once hated, now loved, that's the power of TV".
He also laughed about a "bromance" with the other new BGT judge, David Walliams, but admitted "the chemistry works with the four of us really well."
The winner of the talent contest will get £500,000 in cash and appear on the Royal Variety Performance in December.
The Voice is on this Saturday 24 March, 7.00PM, BBC One