Simon Cowell supports Tulisa in sex tape scandal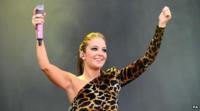 Simon Cowell says he wants Tulisa Contostavlos back "one hundred percent" as an X Factor judge despite her recent sex tape scandal.
Tulisa's already apologised to any fans offended, after the video featuring her and an ex-boyfriend appeared online.
Cowell told Newsbeat that Tulisa should keep her X Factor job;
"If I said no to that, do you know what it is? It's allowing every sleazebag in the country to wreck somebody's career, when she didn't do something wrong".
Embarrassing not illegal
Tulisa has already posted her own video online in response to the sex tape, saying she was "devastated" somebody leaked it. It's not clear yet who leaked the tape or how the video got into the public domain.
Simon Cowell doesn't think this should harm Tulisa's career though, saying "the public are very a) forgiving, and b) understanding, but I hope they don't forgive the person who did it".
Cowell has yet to personally chat to Tulisa about this but admitted he felt angry about the situation;
"I was absolutely appalled, it's just embarrassing, you know, it wasn't illegal."
The line-up for this year's X Factor panel has not been confirmed but it's been rumoured in the tabloid press that last year's new judges, Tulisa and Gary Barlow, should return.
It's thought as in 2011, Simon Cowell's unlikely to have an on-screen presence as he will be a judge again this autumn on the X Factor in the USA.