Draw Something is sold to rival gaming company Zynga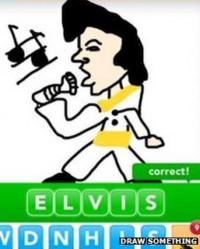 The number one game in the app chart Draw Something has been sold to a rival company six weeks after it was launched.
The sketching game by company OMGPOP is currently top spot in the Apple and Android charts in 84 countries.
US company Zynga is reported to have paid $200m (£120m) for the app.
No official figure has been released.
Players draw images on their mobiles or tablets competing against each other, guessing what the pictures are from clues.
Head of Zynga Mark Pincus said in a statement: "The OMGPOP team has created a game that's fun and expressive."
Viral success
The app has become such a big hit in the gaming world in the last few weeks, it has knocked off long running Zynga titles Words with Friends and Cityville from top spots in the mobile apps charts.
Industry tracker AppData reported that 13.3 million people a day used Draw Something.
It wasn't overnight success for OMGPOP, the New York based developer started in 2009 and created 35 other social games before hitting the gaming jackpot.
The story is similar to that of Angry Birds, the most popular game ever on a smartphone. Creators Rovio developed 51 games before finally making it big.
Draw Something is currently the most downloaded game on Facebook and players draw a total of a billion pictures each week.
Some critics say the takeover of OMGPOP could be a risk for Zynga as they might have bought a one-hit wonder.