Big Fat Gypsy Wedding advert cleared after complaints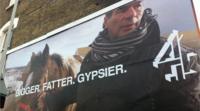 Channel 4 has been cleared by Ofcom for running a series of posters promoting the TV series My Big Fat Gypsy Wedding.
Billboards and other media adverts for the second series of the show used the words "Bigger. Fatter. Gypsier."
More than 300 complaints were rejected after organisations such as the London Gypsy and Travellers Unit said the word "gypsier" in the advert was shocking and potentially racist.
January's Gypsy Blood documentary was also cleared of causing offence.
More than 500 complaints were received by Ofcom about the 90-minute True Stories programme on Channel 4.
The media watchdog said its broadcasting code had not been broken and that scenes, including children fighting and animal cruelty, showed context and were justified as part of the documentary.
It said they were also shown after 10pm.
The Advertising Standards Authority (ASA) also rejected complaints about promotion surrounding My Big Fat Gypsy Wedding's second series.
Twenty-one complaints of animal cruelty against the show were also dismissed by Ofcom.
Gill Brown, from the London Gypsy and Travellers Unit, wrote a letter to Channel 4, with the support of two members of the London Assembly.
She wrote: "We wonder if Channel 4 would have been so ready to use adverts with similarly compromising images phrasing for other ethnic groups: 'Jewisher' or 'more Asian' or 'Blacker'?"
Channel 4 insisted last month that the word "gypsier" reflected the "greater insight into the travelling community".
In a statement, the channel said: "The advertising campaign builds on the celebratory nature of the first series of My Big Fat Gypsy Wedding.
"It is a take on the well-established programme title which in itself is a spoof of the title of a well-known Hollywood film.
"The word gypsier refers to the fact that this series offers even greater access and insight to the communities featured, and the terms gypsy or gypsier are not being used in a negative context."