Lucy Liu: Playing Watson in Sherlock Holmes is exciting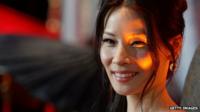 Lucy Liu has revealed that the decision to cast her as Watson in the US remake of Sherlock Holmes is "turning it on its head in a very big way".
Last month it was announced that the 43-year-old had joined the cast of the CBS show, Elementary.
"Whether it succeeds or fails, I feel I'm doing something different and exciting," she said.
British star Jonny Lee Miller takes the lead as the legendary sleuth Sherlock Holmes.
The detective series will be based in modern day New York and there is no more information about which of the Sir Arthur Conan Doyle stories the show will tackle.
"For me it's about pushing forward," she added. "Playing a role that has been historically a male figure and also something that is obviously lore because it is very English-based."
Lucy Liu previously starred alongside Drew Barrymore and Cameron Diaz in the 2000 movie Charlie's Angels.
"I think for someone who is an Asian-American actress playing (Dr Joan) Watson that's something I always like to do - push the envelope."
The show is being written and executive produced by Robert Doherty who also produced Star Trek Voyager.
The UK version, which is called Sherlock, will return for a third series and will star Benedict Cumberbatch in the title role with Martin Freeman as his side kick, John Watson.