Rihanna defends working with Chris Brown on new track
16 March 2012

From the section

Music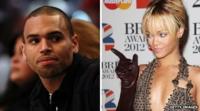 Rihanna has defended her decision to work with ex-boyfriend, Chris Brown, three years after he was convicted of attacking her.
The singer has told a US radio station that she made the first move towards making the collaboration happen.
She says she hopes it will end tensions between feuding fans.
She told Ryan Seacrest on KIIS-FM in Los Angeles: "It made sense as a musician despite everything else. The hottest R&B artist now is Chris Brown."
The Barbadian singer, 24, provided vocals on a remix of Brown's new dance song Turn Up The Music while 22-year-old Brown lent his voice to Rihanna's new track Birthday Cake.
'Innocent'
There has been a mixed reaction to the music among fans on Twitter with some calling it a publicity stunt.
"We did two records, one for my fans and one for his fans," Rihanna said.
"That way our fans should come together. There shouldn't be a divide. It's music and it's innocent."
Both tracks were released last month after the Grammy awards on 12 February.
"I reached out to him about doing Birthday Cake because that's the only person that really it made sense to do the record with," Rihanna told Ryan Seacrest.
"I thought about rappers and I've done that so many times, so I wanted him on the track."
Rihanna and Chris Brown first collaborated in 2007, on a remix of the star's breakthrough hit Umbrella.
Brown pleaded guilty to beating up Rihanna, his then girlfriend, before the Grammy awards in Los Angeles in February 2009.
He's still serving five years' probation for the attack.
Last year a restraining order that had banned Brown from contacting Rihanna or getting within 10 yards (nine metres) of her at music industry events was lifted.