American Idol singer disqualified over arrest warrants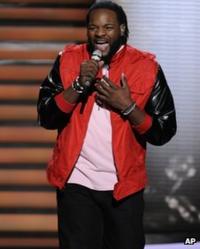 One of the finalists on American Idol has been disqualified after it was revealed he had outstanding arrest warrants against him.
Jermaine Jones was kicked off the show before Wednesday night's episode.
Viewers were shown a taped section where producers Ken Warwick and Nigel Lythgoe confronted him about the issue.
"You were incumbent to tell us the truth about all of this, and it appears that you just haven't on any level," Ken Warwick told Jones.
The 25-year-old vocal instructor from New Jersey was one 13 finalists chosen by viewers.
The judges - Jennifer Lopez, Randy Jackson and Steven Tyler - had given him a last-minute spot in the male semi-final.
He was in the bottom three last week after performing Stevie Wonder's Knocks Me Off My Feet but managed to get through to the final 12.
"I didn't want to get judged," said Jones. "I didn't want to get penalised for anything that happened in the past."
Host Ryan Seacrest said the remaining 11 finalists would be "at risk" of being eliminated on Thursday (15 March).
Corey Clark was disqualified for concealing an arrest record during the second season in 2003.
Frenchie Davis was also dropped from American Idol that year because of a previous appearance on an adult website.
During the eighth season in 2009, Joanna Pacitti was replaced after it was revealed she had already released an album and had ties to 19 Entertainment, which produces the show with FremantleMedia North America.
Chris Golightly was dropped in the ninth season in 2010 because he didn't disclose that he had a previous record contract.