The Hunger Games is something new, say teen film's cast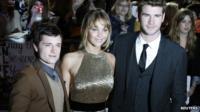 Hundreds of fans greeted the stars of The Hunger Games for its European premiere at London's Cineworld O2.
One of the most anticipated movie releases of the year, it is expected to smash box office records around the world.
With the books already selling millions of copies, many people have drawn comparisons between The Hunger Games and Twilight and Harry Potter.
Hardcore Hunger Games fans don't agree, like 17-year-old Jessica who waited 12 hours to meet the cast.
She said: "They're just such brilliant books. They're so well written, so different. It's just something new. It's just amazing."
Set in the future, The Hunger Games tells the story of a world where teenagers take part in a violent TV battle.
The rules are simple - survive and you win.
The movie is adapted from a trilogy of best-selling books.
It tells the story of Katniss Everdeen, who volunteers to take part in games after her younger sister was selected via a lottery.
Jennifer Lawrence, who plays the lead heroine, says the popularity of her character is down to Katniss' innocence.
"She's a hero that doesn't want to be a hero," she said. "She's a symbol for freedom and revolt. She's strong but vulnerable."
Ratings change
The Hunger Games was originally issued with a 15 certificate from the British Board of Film Classification.
That was changed to a 12A after Lionsgate, the film's distributor, edited out several violent scenes.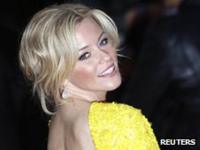 In total seven seconds were cut from the original film.
Fans at the O2 Arena say they hope the changes don't affect the details of the storyline they loved from reading the books.
"You need the violence to show how hostile The Hunger Games were," said 19-year-old Stephanie from Luton. "The violence to get across the message of how bad it was."
Some critics claim the re-edit is merely a PR move by film bosses to make sure more people are able to watch it.
Elizabeth Banks, who plays Effie Trinket, said: "It's certain shots where they've shaved off a couple frames, like blood flying around.
"This movie is not teeny boppers in love trying to figure out what they want from the world. It's about life and death."
The Hunger Games is released in cinemas on 23 March.