Ministers 'must do more' to promote electric vehicles
Campaigners say much more needs to be done to help persuade motorists to switch to electric vehicles.
The government offers a subsidy, or "plug in grant", of up to £5000 for new electric cars and £8000 for vans.
Groups like Greenpeace, WWF and Friends of the Earth admit it's a start but say more encouragement is needed.
The van subsidy only came in last month, but when it was introduced for electric cars in 2011 fewer than 1000 people signed up.
One of the campaigners' main demands is that ministers build thousands more charge points to tackle so called "range anxiety".
They believe the fear of running out of battery power on journeys is a major psychological stumbling block for many motorists.
They also want more congestion charge zones which would be free for electric vehicles, more money put into the research and development, and for ministers to lead by example by making the switch themselves.
Petrol 'pressure'
Andrew Pendleton, from Friends of the Earth, said: "If we don't invest in electric vehicles then driving will become the preserve of the rich only.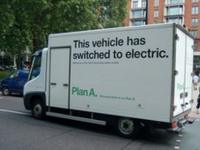 "Petrol is going to go up and up and up in price and [we] are not going to be able to afford to do it.
"This isn't just important for environmental reasons but it's also massively important that driving remains an affordable thing to do."
White van driver Tommy Linstead from Cambridge is exactly the type of motorist campaigners hope can be persuaded to switch.
The 21-year-old tried out an electric van for Newsbeat and was impressed.
"I thought it was going to be a bit naff," he said.
"It's a bit sluggish to start with but once you get up to speed it's pretty quick - I like it."
The Smith Edison van he tried out is one of seven vans eligible for the government grant.
It costs £54,000 but doesn't pay road tax, congestion zone charges or fuel duty - and it costs about £2 for a full (six hour) charge that will take it 80 to 100 miles.
'Very expensive'
"It's very, very expensive but with the cost of diesel getting higher and higher this van will probably come down in a couple of years and then it will probably become a very worthwhile investment," said Tommy.
In a statement, Transport Minister Norman Baker said the government was "absolutely committed" to supporting low emission vehicles.
"They are essential in making reductions in CO2 emissions from road transport," said Mr Baker.
"That is why we have dedicated over £400m to promote this agenda for the lifetime of this Parliament.
"This includes funding for consumer grants of up to £5,000 for plug-in cars and up to £8,000 for plug-in vans, £30m to kick-start the installation of recharging points throughout the UK and £82m for research, development and procurement programmes into low carbon technology within the UK automotive industry."