Kerry Katona defends Stacey Solomon's pregnant smoking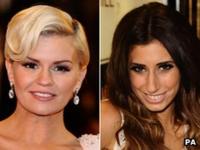 Kerry Katona has defended Stacey Solomon after the former X Factor contestant was photographed smoking while pregnant.
Katona said in her OK! magazine column that it did not count because she was smoking low-tar cigarettes.
The 31-year-old, who smoked while pregnant herself, said the fuss about Stacey Solomon's habit had probably caused more harm than the cigarettes.
"There's no harm having the odd puff now and then," she said.
"She only smokes Silk Cut which aren't even like having a cigarette because you have to puff so hard."
The former Atomic Kitten singer claimed doctors had advised her that she would be fine smoking "the odd one", because getting stressed about it would be even more damaging.
She said Stacey Solomon, 22, probably wanted to smoke even more because of the worry and that it was usual for women in the past to smoke and drink through pregnancy.
"My mum smoked all the way through her pregnancy with me and I turned out in the best of health," she wrote.
Stacey Solomon finished third in the the sixth series of The X Factor in 2009 and now presents a dating show with Radio 1 DJ Chris Moyles on Sky Living.
She has since apologised for the smoking saying it was ''selfish'' and that she is doing all she can to give up.
The British Heart Foundation has criticised Kerry Katona's comments, saying, '' it doesn't matter what brand of cigarettes you smoke, they all contain nicotine and tar''.